ZW7-40.5 Series of Outdoor High Voltage Vacuum Circuit Breaker With Central Operating Mechanism
---
ZW7-40.5 series of outdoor High Voltage Vacuum Circuit Breaker With Central Operating Mechanism are three phase,A.C 50(60) Hz outdoor high voltage distribution equipment with 40.5kV rated voltage,which can be used to open or close loading current ,over-loading current and short-circuit current,it is widely used in rural electrical network and comply with GB1984-2003 standard
circuit
voltage
average
current
should
INDOOR 40.5KV HIGH VOLTAGE VACUUM CIRCUIT BREAKER
OUTDOOR HIGH VOLTAGE VACUUM CIRCUIT BREAKER
ZW7-40.5 Series of Outdoor High Voltage Vacuum Circuit Breaker With Central Operating Mechanism
---
● General Description
ZW7-40.5 series of outdoor High Voltage Vacuum Circuit Breaker With Central Operating Mechanism are three phase,A.C 50(60) Hz outdoor high voltage distribution equipment with 40.5kV rated voltage,which can be used to open or close loading current ,over-loading current and short-circuit current,it is widely used in rural electrical network and comply with GB1984-2003 standard.
The overall structure of this product adopt porcelain insulator support type,the vacuum interrupter is installed inside the upper insulator,the lower insulator is used for support bottle,three phases are amounted on the same mechanism
● Applying ambient conditions
1. Ambient temperature:-30℃~+40℃
2. Ambient humidity:the average humidity of a day should be no more than 95%;the average humidity of a month should be no more than 90%.
3. Earthquake intensity:not exceed 8 degrees.
4. Saturated vapour pressure:the average pressure of a day should be no more than 2.2kPa;the average pressure of a month should be no more than1.8kPa.
5. The height above sea level:?1000m.
6. Air filthy degree:Ⅲ degrees.
● Main Technical Specification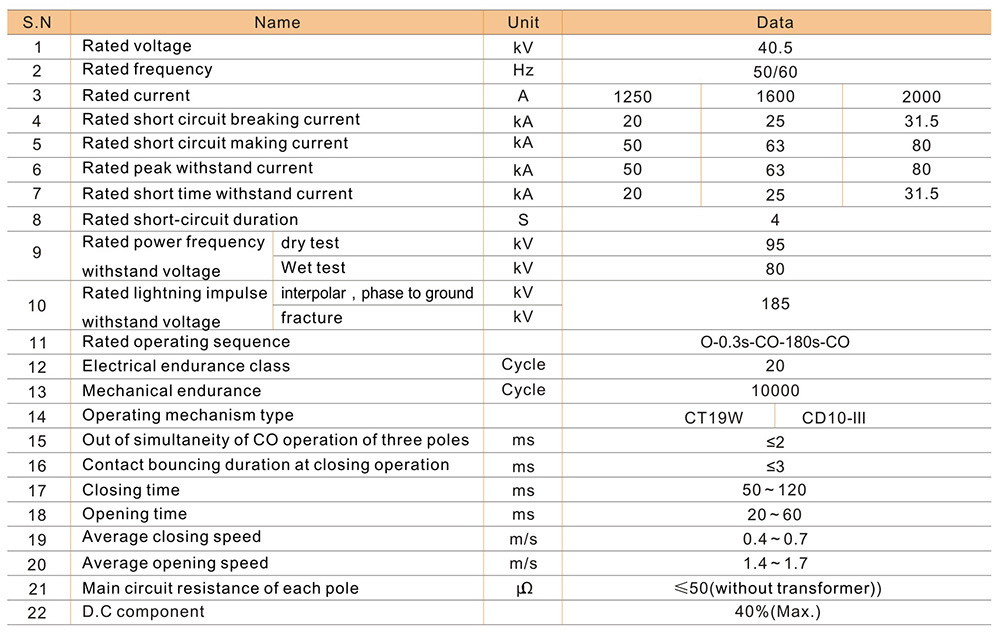 ● Overall outline drawing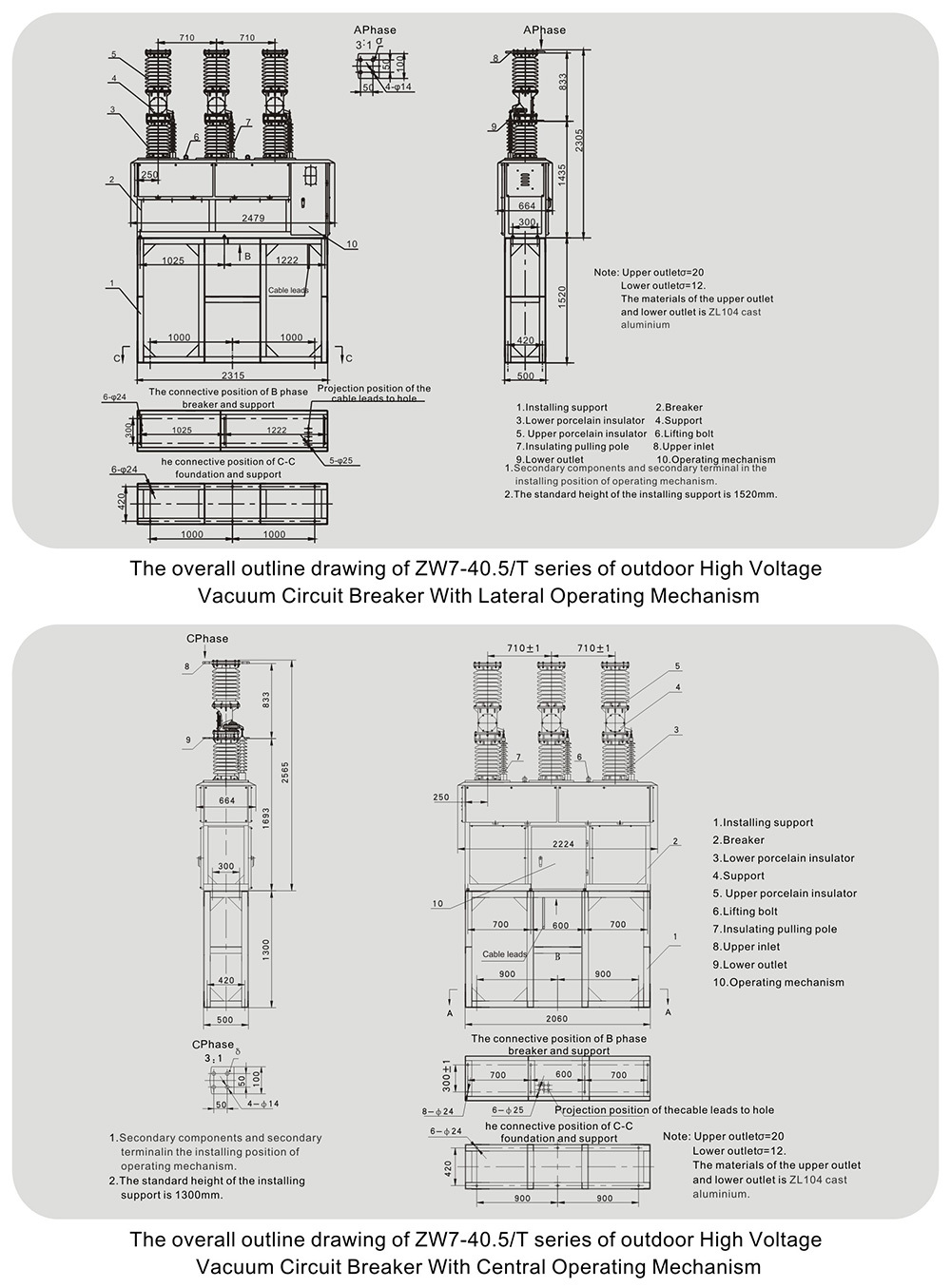 ● Following information is required for order
Full type name,rated current,rated short circuit breaking current.
Type of operating mechanism,rated voltage of CO tripper,voltage of energy-stored motor.
The ratio, precision and quantity of CT.
Name and quantity of spare parts.
For special requirements,please consult with manufacturer.
● Typical wiring diagram of the second principle(Electrical operated)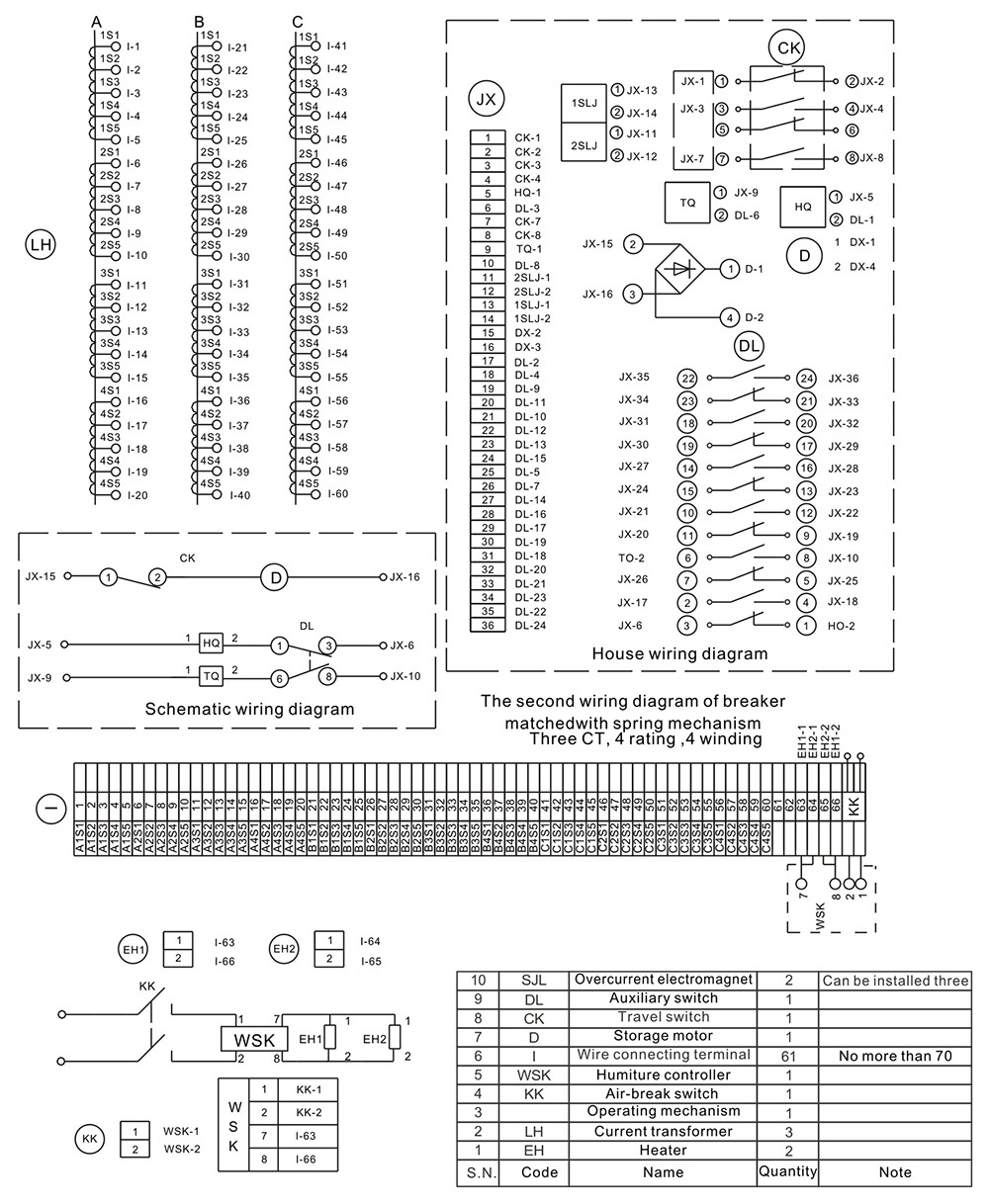 Related products
Using the Longxiang switch to share national invention patents
---
ONLINE MESSAGE
*Note: Please make sure to fill in the information accurately and maintain smooth communication. We will contact you as soon as possible